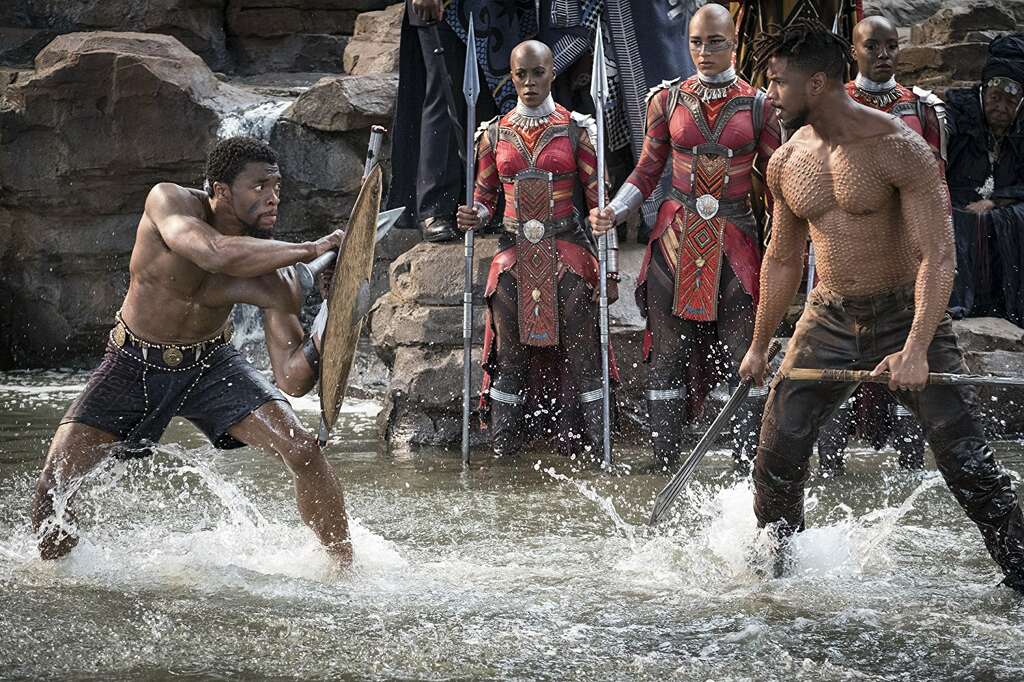 "Black Panther" finds itself in a middle of an explosion of black-oriented superhero content. In 2016 Netflix released the first season of their Marvel series Luke Cage, featuring a black urban superhero and a soundtrack by New York hip-hop legends A Tribe Called Quest, and there's a second season set for release later this year. In response, the CW released the first season of the DC hero Black Lightning, which premiered January 2018. On the heels of this new hunger for racially diverse representation, Marvel released "Black Panther," co-written and directed by black director Ryan Coogler and featuring a predominately black cast, with the hopes of still attracting the widest possible global audience.
This story imagines a free country in the heart of Africa known as Wakanda, which has been hidden and protected from colonists, war, famine, disease, or any of the other factors that have devastated much of the known continent. Through the abundance of a powerful alien ore known as Vibranium, Wakanda has become the most technologically advanced nation the world has never known, and by avoiding conflicts with other world governments, the area has been able to thrive in secret. Chadwick Boseman plays T'Challa, the young heir to the Wakandan throne after his father, the previous Black Panther, was killed in the political bombings featured in "Captain America: Civil War."
T'Challa is alerted to action by an Oakland-based young freedom fighter known as Eric Killmonger (Michael B. Jordan), who wishes to challenge the African leader for the technology Wakanda is hoarding from the rest of the world's black society. It's then up to Black Panther to keep his land protected from any outside threat, whilst the nation itself is arguing whether or not they should risk exposing their power through defensive battle abroad. Along for the ride is the three women in T'Challa's life that help protect the hero in different ways; his warrior bodyguard Okoye (Danai Gurira), his little sister Shuri (Letitia Wright), who works as a weapons specialist, and his politically active and ideologically driven partner Nakia (Lupita Nyong'o).
This incredible ensemble also includes Martin Freeman, Daniel Kaluuya, Angela Basset, Forest Whitaker and Andy Serkis.
Coogler's first foray into large-scale, effects-driven action filmmaking features an exciting cast, wildly colorful production design, overt science-fiction premises and charged political points of view, and by most accounts, this mainstream Marvel release manages to hit most of its targets as the plot unfolds, but not without a few stumbles along the way.
Coogler's cinematic training in independent film is a bit narrow and his camera placement is oddly closed-in. Much of film is done in traditional coverage, containing a lot of close-ups and mid-shots, which underutilizes the movie's grand Afrofuturist production design and reveals just how much of the movie is actually spent on conversation set-pieces and walk and talks. Because the movie—to its credit--is more interested in battles of ideology rather than blockbuster action scenes, the few action pillars that hold up the longer dialogue driven sequences are open to harsher critique and don't always satisfy the audience's patience. The best action moment in the film takes place at a casino in Busan, South Korea and it concludes with an exciting car chase. The ritualistic hand to hand challenges for the throne that take place on a Wakandan waterfall contains fewer effects but they have an emotional grounding in the story. In contrast, the concluding battle sequence as well as the final fight between Black Panther and Killmonger safely puts the movie on autopilot and concludes without surprises.
Despite my grievances with some of the technical elements of the film and the lack of sustained dramatic tension when it comes to the relationship between the hero and the villain—the script is often stretched too thin, trying to cover all its bases—I fully acknowledge that the reasons a person of color might be excited by this film are far more interesting than the reasons I might find fault with it. It's not a perfect piece of genre filmmaking but it's certainly unique and is working through a lot of bigger ideas, and if a Marvel superhero film can get teenagers to start talking about passivism, globalism, and post-colonialism without it feeling like homework, then I can forgive the pacing issues and the unintentional camp.
Grade: B-

Originally Published in the Idaho State Journal/Feb-2018


Listen to this week's episode of Jabber and the Drone to hear more conversation about Black Panther.